C O M M U N I T Y
Because it's not all about work—we live here too. Our kids, our evnironment, our culture. Local community and volunteer-based organizations bring real value to our lives on the East End of Long Island, and Marginal Media is committed to supporting their efforts by providing cost-conscious design, Web hosting, and technology consulting.
We've worked with groups like Montauk Youth and the Montauk Playhouse Community Center Foundation to help them reach their members, publicize events, and increase their in-house organizational efficiency with smart and low-cost technological solutions. What can we do for your group? Let's talk!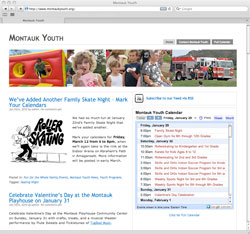 Case Study: Montauk Youth, Inc.
Who they are: Montauk Youth Inc.'s mission is to organize affordable and accessible recreational and cultural activities for the youth of Montauk. They are are a nonprofit organization, with programs funded through a Town of East Hampton grant and through nominal participation fees.
Their issues: As an all-volunteer organization run by busy parents, it was difficult for Montauk Youth to find fast, easy ways to effectively communicate information about their programs and events. They were interested in doing more communication via email, and being able to use a Web site as a central hub for information.
Solutions: Marginal Media provides Montauk Youth with Web and email hosting. We also helped them install an easy to use WordPress blog, a public Google Calendar, and an email list so their President could quickly and efficiently maintain, coordinate, and communicate information about all of Montauk Youth's own programs as well as publicizing other programs and events for youth and families within the community.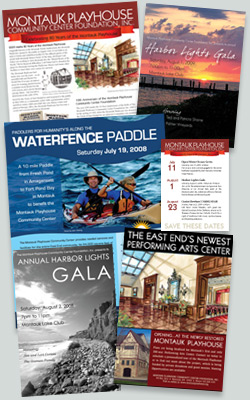 Case Study: Montauk Playhouse Community Center Foundation
Who they are: The Montauk Playhouse Community Center Foundation (MPCCF) is a vision born out of the resolve to preserve and maintain a cherished historic building of the Carl Fisher era while enhancing the "spirit of community" in Montauk by fostering inclusion, innovation and stability; and by providing to people of all ages opportunities for recreational, social, cultural, educational and human services. It is the dream of the MPCCF to establish a center dedicated to serving the needs of families by providing affordable services such as child and senior day care, indoor recreational activities, and a center for the arts.
Their issues: The MPCCF needed a variety of print design materials to reach their members and publicize events. They were also looking for ways to make maintaining their Web site easier, and to increase the efficiency of their fundraising by being able to sell event tickets and accept donations online.
Solutions: Marginal Media has created complete print design materials for the Foundation's annual Gala fundraising dinner, their annual newsletter mailing, posters publicizing fundraising events, and magazine advertisements promoting awareness of the Playhouse. We've also provided technology consulting to help the Project Director more easily administer the MPCCF's Web site, and advised them on the selection and set-up of a simple and low-cost online payment system.